Reinforced Soil Retaining Walls & Slopes
Reinforced Soil Retaining Wall Solutions
In cases where reinforced soil retaining walls and soil slope reinforcement are required, you are presented with some difficult choices. The options are varied, including reinforced concrete, mass concrete, gabions, crib walls, sheet piling and masonry. Increasingly, design engineers are looking to Tensar for a tailored solution from a single source.
TensarTech® Earth Retaining Systems for Walls and Slopes provide a range of reinforced soil structure products with a choice of faces to suit local design codes, budget, environmental constraints and aesthetic requirements. They are designed as 'true systems' using carefully integrated components for superior structural integrity and to maximise the land available.
Reinforced soil retaining wall systems support a sloping soil mass using geogrids and a choice of facing (typically concrete blocks or wire mesh). This allows for rapid and economical construction, reducing conventional construction times, avoiding the need for specialist skills and often enabling the utilisation of site-won fill materials.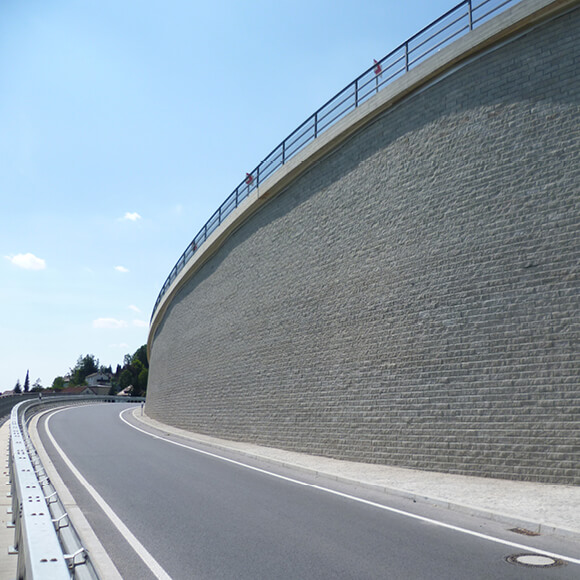 Reinforced Soil Wall
Tensar offers a range of TensarTech reinforced retaining wall systems for permanent and temporary structures. Reinforced earth walls are designed as reinforced soil (or mechanically stabilised earth (MSE) structures with a choice of facing: modular concrete blocks, segmental panels, full-height concrete panels or wire mesh options.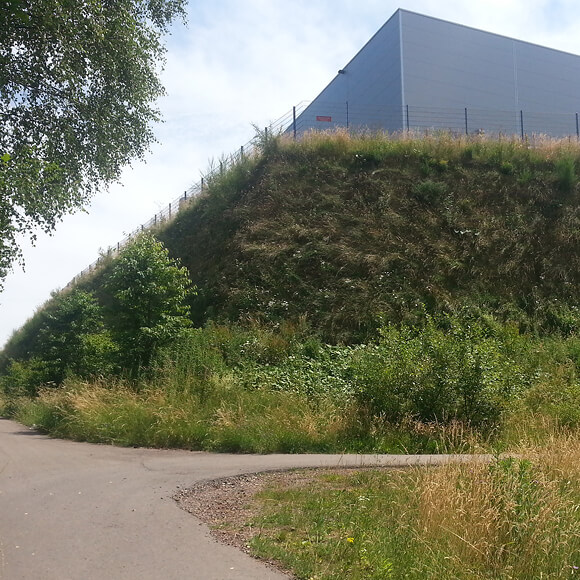 Steep Slopes
Steepened reinforced earth wall slopes with a face angle up to 70°, can offer alternatives to vertical walls, at considerably lower cost. Typically these earth retaining slopes have a 'green' facing of grass or selected planting to enhance local identity; they are aesthetically appealing with a reduced environmental impact.
Ultimately these types of earth retaining walls enhance the sustainability of a project. Waste or site-won materials are often suitable for the structural fill, which supports both reductions in costs and essential long-term sustainability goals.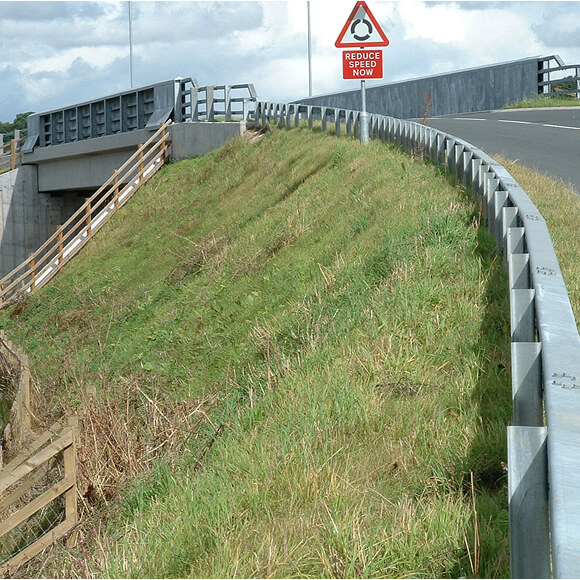 Slope Repair
Failed slopes are common, and changing rainfall patterns due to climate change seem likely to increase such occurrences around the globe. Excavation and replacement of failed materials has been the most common approach for reinstatement of slopes, up to now. Tensar reinforced soil retaining walls offer a cost efficient alternative, often re-using the failed materials to repair the slope, as well as incorporating geogrid reinforcement to provide stability and resilience.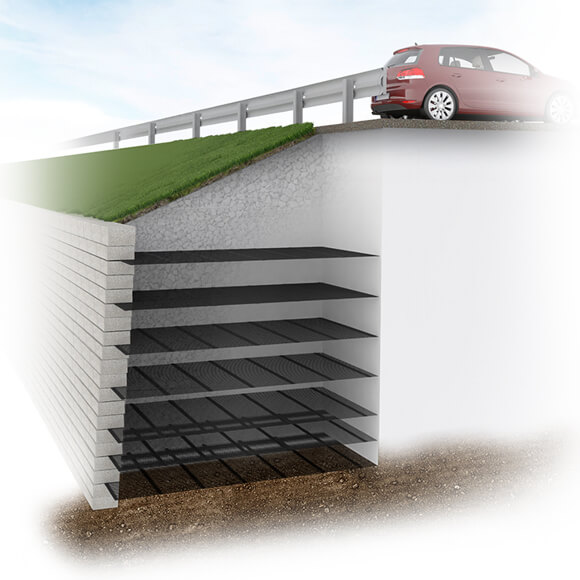 The Benefits of Reinforced Soil Retaining Wall
Compared to alternative structural solutions, TensarTech® Earth Retaining Systems (with a choice of face angles from 20˚ to 90˚)offer rapid construction, usually needing no crane lifts or temporary propping. This cuts construction times by up to half, thus giving up to 75% cost savings.
Additionally, reinforced soil retaining walls benefit from environmental advantages, including the use of site-won or waste fill materials. They can also significantly reduce construction carbon emissions and prevent wastage with a service life of up to 120 years.
Our internationally-certified reinforced earth wall systems and products provide options of architectural and natural finishes, as well as design and component options for easily-built curves and terraces. Tensar's full design service includes working drawings, material schedules and method statements to help your business.
Walls and Slopes Related Products & Systems
Loading...
There are no results that match your search. Please try another search or Contact Us with further questions.
Earth Retaining Walls & Slopes Success Stories
Reinforced Earth Wall and Slope Resources