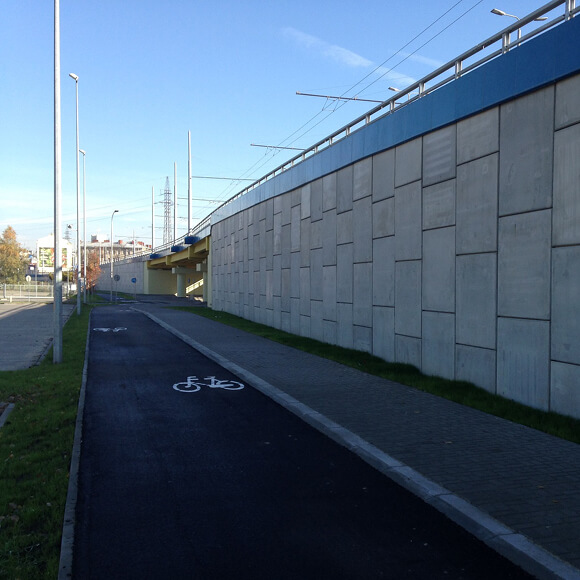 TensarTech®ARES Wall Systems
2.25 Square Metre Standard Panel Size
120 years Design Life Certified by BBA
0 Corrosion Concerns
Design & supply wall system with segmental panel facing
Rigorously tested for stability, durability and load bearing capacity
High strength, non-corrodible connection between panels and reinforcement
Value engineered design by Tensar's experienced team.
Overview
When long-term performance and speed of construction are critical, TensarTech® ARES systems provide an attractive and reliable solution for retaining wall and bridge abutments, saving time and money during installation. The system is comprised of a pre-cast concrete modular panel facing, securely connected to Tensar uniaxial geogrids, which reinforce the soil behind to create a stable structure with up to 120-year design life. The modular panels offer designers a choice of textures and patterns to meet architectural, structural, and budgetary needs. Panels are cast with Tensar geogrid tabs embedded in the rear face for connection to Tensar uniaxial (RE) geogrids. The 100% polymer bodkin connection assures no loss in design strength over the project's service life.
System Components
The TensarTech ARES® System includes advice, training and services from Tensar's design and on-site teams, as well as three specific products. These are Tensar uniaxial (RE) geogrids (high density polyethylene with extremely high durability and no corrosion potential), TensarTech ARES modular panel facing (high strength, durable factory produced pre-cast panel) and Tensar polymer bodkin connector – for high strength connection between blocks and geogrid reinforcement.