Tensar+ Geotechnical Design Software
Tensar+ is a free, cloud-based geotechnical design software that allows engineers, contractors, and owners to design with geogrid in a variety of applications. The newly enhanced design software features a simplified user experience with all the features engineers have come to expect and depend upon with Tensar software.
Use the platform to design your project, customise its specifications and see the cost-savings in real time.
The Tensar+ geotechnical design software platform enables you to:
Design and evaluate project specs
Compare alternative materials and project conditions
See the cost and time savings in real time as you change parameters
Analyse the sustainability of your projects.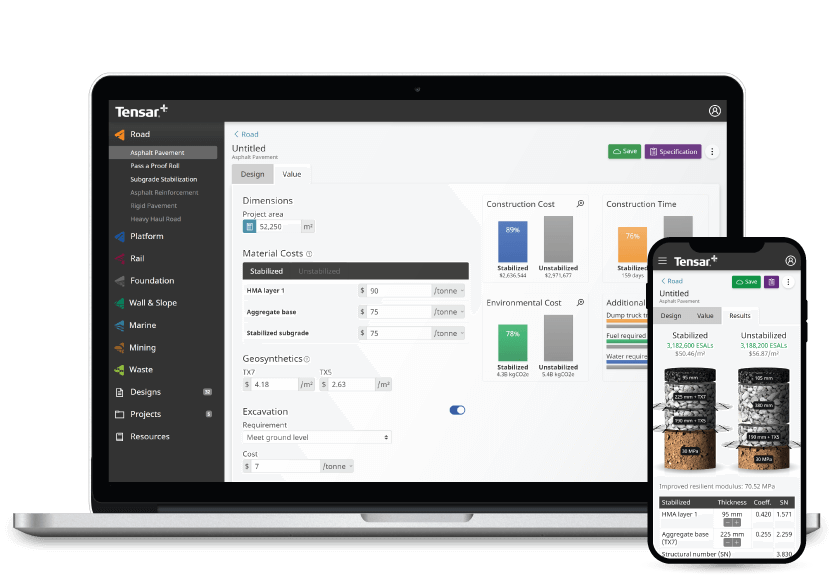 Choose from a number of construction and geotechnical design software modules
Tensar+ has a number of modules available to help support your construction and geotechnical design projects. Discover our current and upcoming design modules below.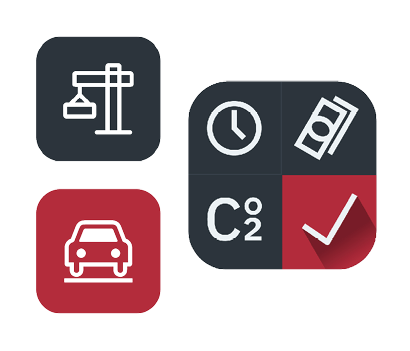 Road construction software
With our road design and construction software module, design engineers can visualise, prepare and understand the parameters and requirements of projects prior to construction, including the specifications for stabilised layers. By mechanically stabilising the unbound layers of a road pavement design, you can maximise the cost and carbon emission savings that can be attained through reduction of the pavement thickness in construction. Tensar's approach utilises the most up to date knowledge of how a geogrid works when included in a roadway subject to dynamic traffic load.
Temporary works software
Temporary working platforms are an incredibly important aspect of many construction projects, providing construction workers and engineers with stable and safe working areas. By using Tensar+ temporary works design module, you can utilise Tensar's most recent application technology for mechanically stabilised working platforms and provide safe platforms saving project cost and increasing environmental credentials. Tensar's "T-Value" design approach is a credible alternative to the guidance offered in BR470 with a proven track record and is implemented into Tensar+ software.
Subgrade stabilisation software
Working on weak or variable ground usually presents considerable construction challenges, therefore designing a secure mechanically stabilised layer prior to construction is essential. By using the Tensar+ subgrade stabilisation module, mechanically stabilised layers can be designed prior to construction, further protecting the subgrade and improving bearing capacity. Tensar's subgrade stabilisation design methods and solutions are widely accepted and utilised worldwide.
More modules coming soon
We have a number of design modules that are yet to be released, and these will be greyed out on the platform. Some of our upcoming modules include:
CD225: Design for new pavement foundations
Whole pavement design

To stay up to date on their release status, sign up for free with Tensar+ today, click on your chosen module heading and select the notification button to receive an email notifying you of each module release.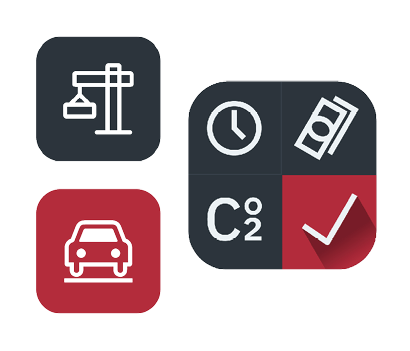 What is geotechnical design software?
Geotechnical design software is a specialist program that enables design engineers to virtually build the geotechnical elements of a site. This software allows design engineers to easily carry out solutions within unpaved road design, working platforms, foundation stabilisation and more.
Tensar+ is a geotechnical software designed to work specifically with Tensar geogrids, a offering market-leading solutions for road, rail, and trafficked areas. As the industry leader for geogrids used in stabilisation and reinforcement applications, using our construction software alongside our products will ensure you can generate performance based solutions with quantified Tensar value.
Geotechnical design software on desktop, mobile, and tablet
Our geotechnical software is completely cloud-based and free to use on the go – access Tensar+ anywhere, anytime, and any place. You don't need extra hard drive space on your device, or any special requirements to get your designs started. And if your team needs to design out in the field, simply download the app.

Report, research, and collaborate
With Tensar+ geotechnical design software, your project will be fully supported by our expert knowledge and years of extensive research. The resources section of our construction software contains many professional assets including product information, background on applications, and design methods and training. If you ever encounter any issues with using Tensar+, we have a large number of frequently asked questions to help you complete your project – and we also offer bespoke design support.
Reporting and collaborating on geotechnical projects has never been easier with our construction software. Not only can notes be added to the design for quick reference points when designing, reports can be exported and shared online, via email, or in print format.

How to get started with Tensar+ geotechnical design software
Getting started with Tensar+ is quick, easy, and free. Simply visit the Tensar+ website and sign up for an account, then start a new design or project directly from the homepage.
Frequently Asked Questions