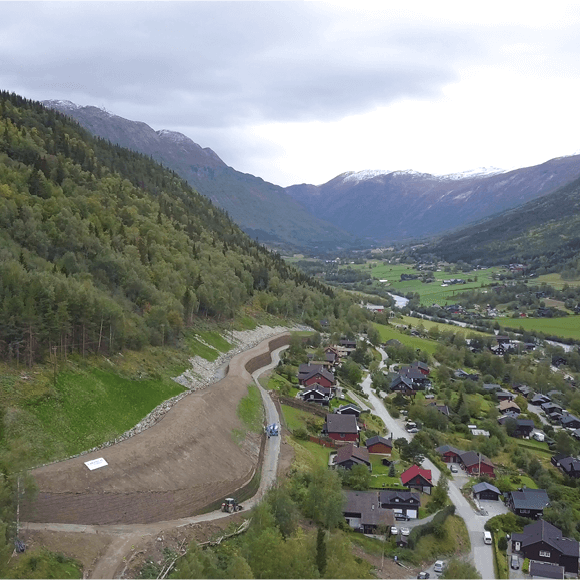 Rockfall Protection Bund
Ulstad, Norway
A TensarTech GreenSlope reinforced soil system was a fast and cost-effective solution for a 500m long bund built to protect homes from the risk of rockfall.
Benefits
Enabling the use of site-won fill
Faster more economical construction
Minimising visual impact while maximising protection
Client's Challenge
A new rockfall protection bund was needed above homes in Ulstad, in the Lom Municipality of Norway. The original design comprised a soil embankment, with a vegetated gabion facing. Main contractor Rolstad Maskinentreprenør asked Tensar's Norwegian distributor TenTex to cost the design, but it proposed an alternative approach using a Tensar GreenSlope solution.
Tensar Solution
Tensar provided a design for the bund using GreenSlope. The system enabled locally-sourced fill to be used, removing the need for the imported soil needed for the original proposal. This resulted in faster construction, which was more economical and had lower environmental impact.