Tensar Next Generation Launch - Philippines
---
Date: Wednesday, November 22, 2023

Time: 8.00AM - 5.00PM | Level 5, Holiday Inn & Suites Makati, Manila, Philippines
---
Event Overview
Tensar Next Generation is coming to Manila, Philippines!
Our seats are fully booked! Although registrations are closed, fret not. If you're keen to explore Tensar's next generation solutions, share us your interest by contact us! Reach out below, and we can discuss how you can still be a part of the excitement.
Learn more on our latest Tensar Next Generation solutions with us in this exclusive regional physical launch event. In collaboration with our esteemed distributor in Philippines, FW Nicol, we cordially invite you to join us as we unveil the newly launched Tensar InterAx geogrid, the free, cloud-based software, Tensar+, and the new design methodology "Lees Approach to Applied Mechanical Stabilization" (LAAMS)!

Get the first-hand information on how Tensar's innovations will help you save construction time, reduce project costs, and minimise carbon footprint. But that's not all – dedicated sessions have been arranged to guide you through the process of designing with geogrid in various applications and see the real-time savings with Tensar+. Our team of global experts will be there to answer your questions and offer advice to the difficult project.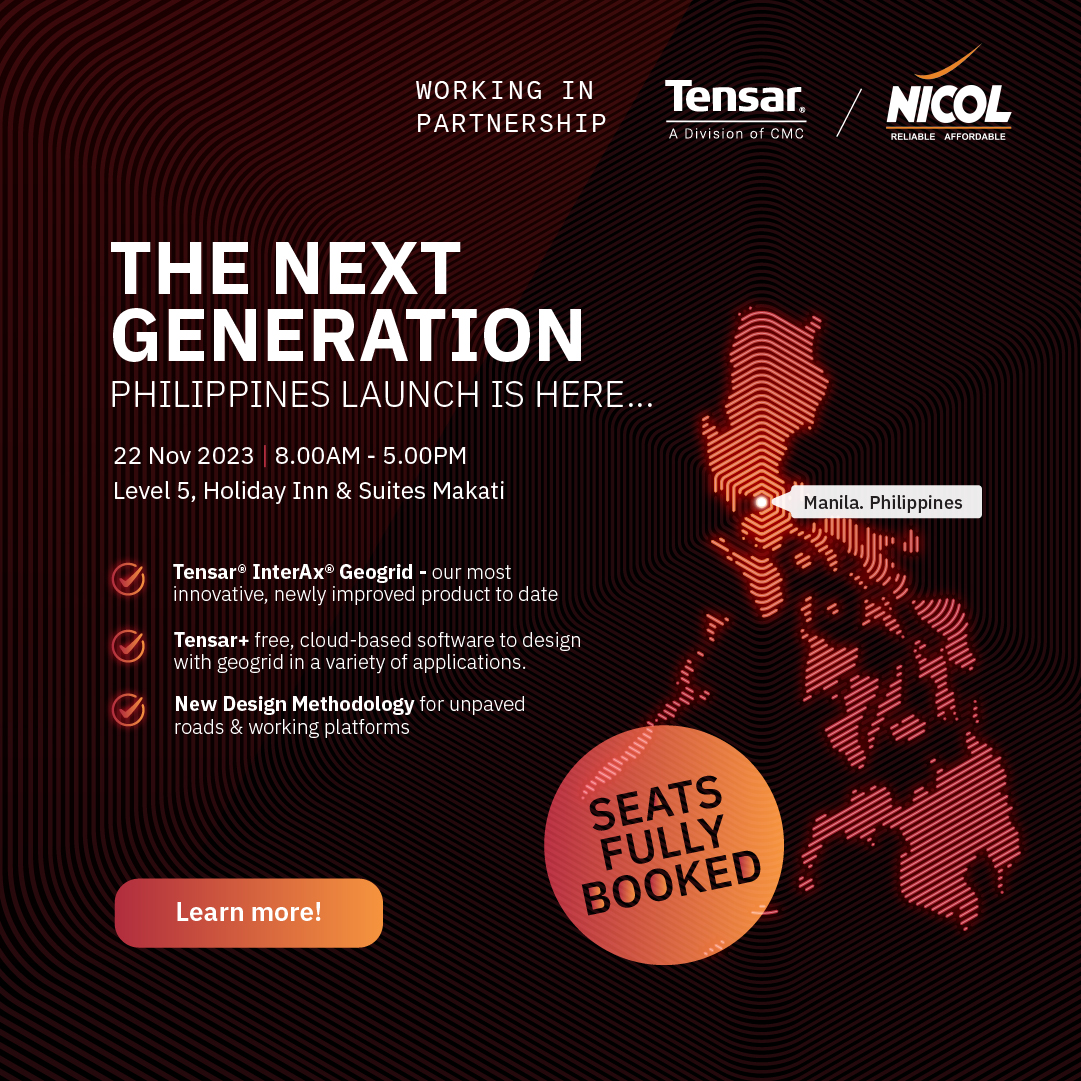 Agenda & Program
Check out our full-day program featuring exciting topics, renowned speakers, industry experts, and latest product information in the market.
Time
Topics/Program
Speaker/Presenter
8:00
Arrival & registration


Session 1: Inside the Tensar Next Generation

9:00
Opening Remark
John Patrick Catindig (BD Engineer, FW Nicol)

9:10
Opening Speech
Gerard Vongsady (VP & GM APMEA, Tensar)
9:15
FW Nicol Local Presence
Charlemagne Cruz (VP, FW Nicol)
10:00
Coffee Break
10:30
Introduction to Tensar InterAx
Mangesh Shinde (Territory Director - EA, Tensar)
11:30
Technology Update
Ir Lau Joe Jiunn (Design Manager - EA, Tensar)
12:30
Lunch Break


Session 2 - Predictable Performance with Tensar+

13:45
Tensar+ Design Module
Mike Dobie (Regional Manager - Asia Pacific, Tensar)
14:45
Coffee Break
15:15
Tensar+ Design Example & Field Trial
Mike Dobie & Ir Lau Joe Jiunn
16:45
Closing Speech
Nicholas Yeo (CEO & President, FW Nicol)
17:00
Events Ends

Need more information, please contact us at tensarinfo-my@cmc.com/ philippines@fw-nicol.com
---