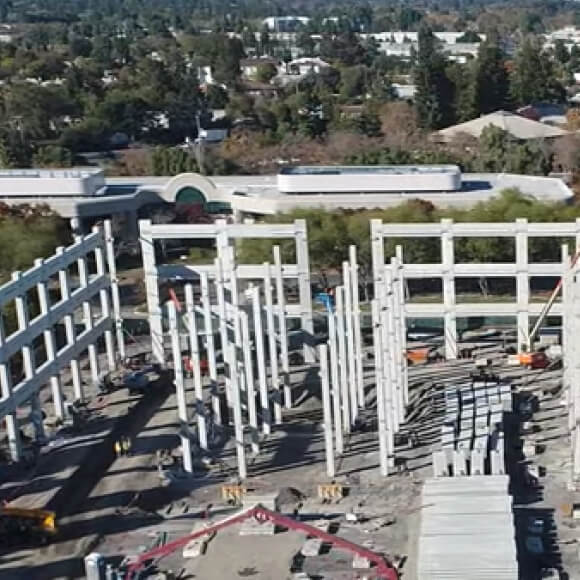 Google Alta
Mountain View, CA
Tensar InterAx™ geogrid design increases performance of crane pad with thinner section.
Client's Challenge
Google's innovative architectural designs require carefully thought-out construction and so sequencing of events creates a critical path. A portion of the building foundations needed to be constructed before the columns could be built from those foundations. To construct the columns, the contractor needed a large crane that would impose surcharge loads on the existing footings. However, the footings were not designed to experience the additional surcharge. Additionally, the crane would need to track around the structure to achieve the required picks.
Tensar Solution
Tensar collaborated with the contractor and geotechnical engineer to develop a crane pad platform using InterAx geogrid. InterAx geogrid interlocks with aggregate forming a mechanically stabilized layer (MSL) that can experience more stress with less strain. Using Tensar's innovative T-Value method, the aggregate thickness could be thinner and achieve the same performance compared to a thicker, unstabilized section.This solution offered a considerable cost savings compared to crane mats. The T-Value method also provided quantifiable benefits to the Engineer of Record allowing them to feel confident with the decision to use geogrids.