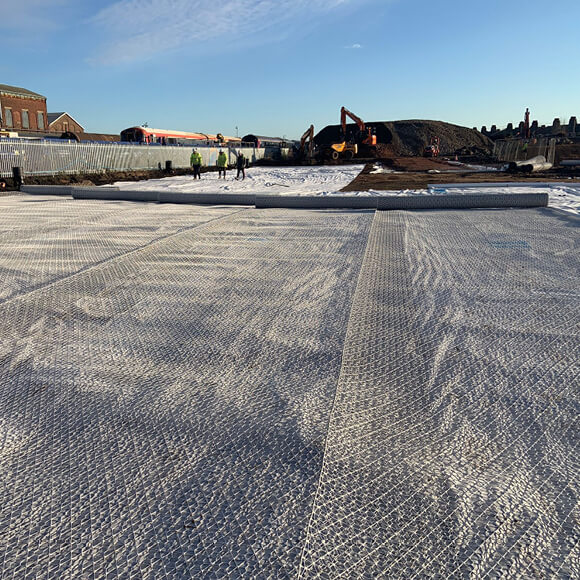 Eastleigh Railway depot
Eastleigh, UK
After encountering weaker than expected subgrade soil conditions, a solution was required to address initial construction activities as well as achieve target levels of support for the permanent works.
Benefits
42% estimated reduction in construction time
20% estimated savings in material costs
35% estimated saving in carbon emissions
Client's Challenge
Tensar were contacted by the client to address challenges with subgrade conditions that were much weaker than expected from initial project documentation (CBR 0.8% vs an expected minimum of 3.4%). Foundation subgrade improvement was required to support concrete slab construction, alongside a working platform and haul road to give construction access over the weak ground.
Tensar Solution

A Tensar Mechanically Stabilised Layer (MSL) incorporating Tensar InterAx geogrid was provided, considering both the varying loading conditions and performance criteria to suit the construction sequence. Admissible bearing pressures were provided for using the MSL as a working platform in the construction phase, with additional advice regarding maintenance and validation testing prior to its permanent use beneath a ground bearing slab. The Tensar MSL achieved the required levels of support throughout construction.