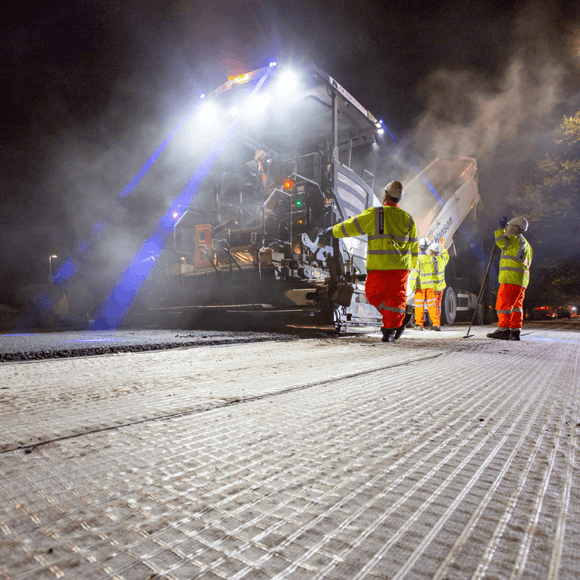 Tensar® Glasstex®
20 Years of Successful Project Use
2 Layer Composite Interlayer Product
3 Functions; Reinforcement, Stress-relief and Waterproofing
Glasstex stress absorbing membrane interlayers serves three functions: reinforcement (load transfer), stress relief and waterproofing
Controls cracking in asphalt to extend pavement life
One of a range of Tensar asphalt interlayer products – offering the right products for specific problems
Tensar has over 30 years of experience with asphalt interlayers, providing unrivalled expertise and knowledge.
Overview
Glasstex is a low-profile composite stress absorbing membrane interlayer product comprising a grid of glass filament bundles, stitch-bonded to a non-woven paving fabric. The high-modulus glass filaments provide high absorption of stress at low strains. After being saturated with bitumen the fabric performs a sealing function. Glasstex provides reinforcement, stress relief and interlayer barrier functions, as defined by EN 15381.
Typically installed under the asphalt binder course, Glasstex's high-stiffness grid is bonded to the asphalt, providing a reinforcement function by absorbing stress at low strain interlayer levels.
The reinforced stress absorbing membrane layer creates prolonged service life. It controls reflective cracking and mitigates longitudinal cracking caused by differential settlement between new and existing lanes on widened roads
Product Range
Available in a range of strengths
Glasstex is available in a range of tensile strengths to suit the needs of specific projects:
Glasstex P50
Glasstex P100
Glasstex P200